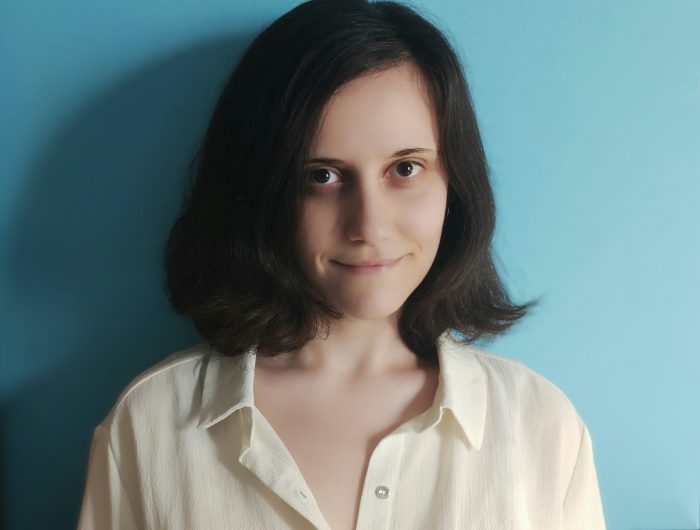 Rosita Piritore
Born in 1996, Rosita Piritore was introduced to music at the age of 9, beginning piano study at 11. After obtaining the piano bachelor's degree with highest honors at the Conservatorio V. Bellini of Caltanissetta, she obtained 2019 a master's degree in piano with highest honours, cum laude and honourable mention at the A. Boito Conservatory of Parma; at the same conservatory in 2022 he obtained the composition degree with highest honours, cum laude and honourable mention.
She performs a heterogeneous concert activity: she has performed in cities such as Milano, New York, Ferrara, São Paulo, Ravenna, Sciacca, Parma, Agrigento, Reggio Emilia, Faenza, Cesena, Mazara del Vallo, Enna, etc.
Her works have been performed and presented in Europe, America and China in festivals/venues such as Music by Women Festival (Columbus), Art.9 (Hong Kong), LunART Festival (Madison), I concerti del Boito (Parma), Voices Raising Voices (New York), Incontri al pianoforte (Caltanissetta), Verdi Off Festival (Parma), Performing Media Festival [PMF~2021] (South Bend), Genesis: The Beginning of Creativity (New York), PREview Festival (Porto), Embassy of Mexico (Rome), Light Matter Festival (Alfred, NY), Orchestra dell'Emilia Romagna incontra i giovani talenti (Parma), Carnegie Hall (New York), as well as broadcasted by American stations such as WPRB Radio (New Jersey), Flagler College Radio (Florida) and European stations such as Resonance FM (London). Her works are also published by Studiomusicalicata and Erom.
As an artist she has collaborated with the European Opera Academy, operating in Holland, Lithuania and Portugal with the final debut of her operetta Pupi e Pupari, Objet-Trouvé at the Centro Musica in Modena, Eparm 2020 at the Royal Academy of Music in London, GATM 2021 in Rimini, Music Diaries International Festival in Thessaloniki, Parma Film Festival with Alessandro Haber. Since 2020 he has held the position of pianist within the Orchestra Toscanini Next in Parma. She produced a CD of piano improvisations entitled Dal movimento published in 2021.
She was awarded in numerous international piano and composition competitions. She won 1st prize in the Diapason Piano Competition (2009), Euterpe-Mediterraneo in musica (2009) and Pjeter Gaci Competition (2020). For composition, she was 1st prize winner at the Azione Musicale Composition Competition (2015), Composition Competition Città di Barcelona P.G. (2017), Il Casale International Competition in Riardo (2019), Vladimir Mendelssohn International Composition Competition (2022). She has won composition awards at the Giuseppe Tomasi di Lampedusa Competition (with the motivation of having distinguished herself in a role that counteracts gender stereotypes) (2013), Maurice Ravel International Composition Competition (2016), Città di Albenga Composition Competition (2016-2018), Composition and Transcription Competition A.Gi.Mus. (2019), Concours International Leopold Bellan (2021), Women's Composition Competition Femfestival (2021), in music for short films at Nicholas Green Competition (2012), Il Mantello (2013) and Archeo Ciak (2014).
Artist's/Ensemble's own website
Programme
Rosita Piritore (1996):
String Quartet (Winner of the Vladimir Mendelssohn Composition Competition 2022)