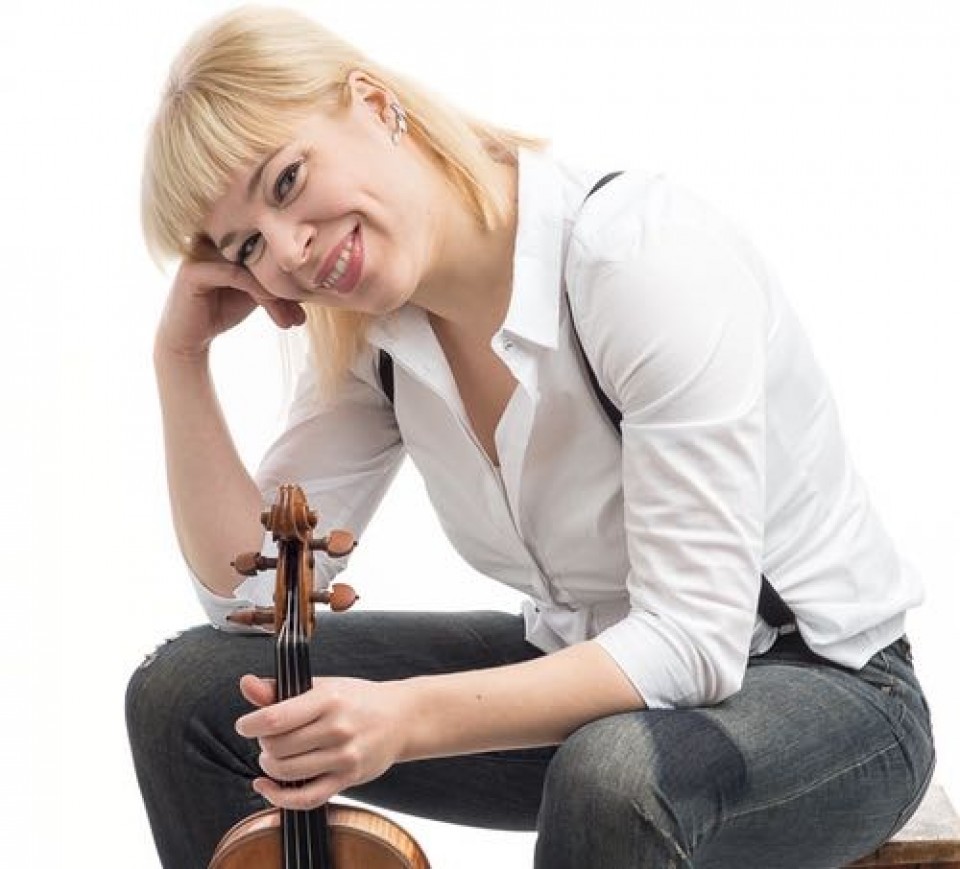 Siljamari Heikinheimo
As a violinist Siljamari Heikinheimo appears regularly as a chamber musician and as a soloist. She has been a member of the Finnish Radio Symphony Orchestra during years 2012-2016 and nowadays subtitutes frequently as a concertmaster and a section leader in Scandinavian orchestras like Tapiola Sinfonietta, Helsinki Philharmonic Orchestra, Danish Chamber Orchestra and Trondheim Symphony Orchestra. She appears regularly at several festivals like Kuhmo Chamber Music, Summer Sounds Porvoo, Hauho Festival and Crusell Festival. She has recorded numerous Finnish compositions for the the Finnish Broadcasting Company. Heikinheimo is the artistic director of Sounds Of Books -concertserie, which takes it's place in Helsinki and the new artistic director of Rauma Festivo. She works as a lecturer in the Arts Academy of Turku.
​In the field of opera directing Heikinheimo has worked in Stefan Herheims directing team in Deutsche Oper im Rhein in Düsseldorf and in Komische Oper Berlin. She has also worked as an assistant director in the Finnish National Opera. Her own productions include staged classical concerts and opera Bluebeard's Castle by Bartók at Rauma Festivo 2019.
​When she was four years old, started Siljamari Heikinheimo violin lessons in Espoo musicschool with Päivyt Meller and Grazyna Gebert. In 2003 she continued her studies at the Sibelius-Academy with Merit Palas. In Sweden she has studied in Edsbergs musikinstitut with Ulf Wallin (2005-2008). In 2011 she finished her studies with Petri Aarnio and played her final exam with exellent points at the Sibelius-Academy. Chamber music she has mostly been studying with Paavo Pohjola, Marko Ylönen and Mats Zetterqvist. The most significant masterclasses have been with Mi-Kyung Lee, Pavel Vernikov, Hagai Shaham, Ferenc Rados and Ralf Gothoni.
Artist's/Ensemble's own website
Programme
Outi Tarkiainen (1985):
They Walked Side by Side for mezzo-soprano and violin (2018)
Grażyna Bacewicz (1909—1969):
Quartet for four violins (1949)
Henry Purcell (1659—1695):
Ouverture from the Tempest, Z. 631 (ca. 1695)
Nicolas Achten

François Dambois
Henry Purcell (1659—1695):
Dry Those Eyes from the Tempest, Z. 631 (ca. 1695)
Nicolas Achten

François Dambois
Henry Purcell (1659—1695):
Dance of Spirits from the Tempest, Z. 631 (ca. 1695)
Nicolas Achten

François Dambois
Henry Purcell (1659—1695):
Great Neptune from the Tempest, Z. 631 (ca. 1695)
Nicolas Achten

François Dambois
Kaija Saariaho (1952):
Prospero's Vision from the Tempest Songbook (2004)
Henry Purcell (1659—1695):
Halcyon Days from the Tempest, Z. 631 (ca. 1695)
Nicolas Achten

François Dambois
Kaija Saariaho (1952):
Ferdinand's Comfort from the Tempest Songbook (2004)
Henry Purcell (1659—1695):
See, see the Heavens smile from the Tempest, Z. 631 (ca. 1695)
Nicolas Achten

François Dambois
Henry Purcell (1659—1695):
No stars again shall hurt you from the Tempest, Z. 631 (1695)
Nicolas Achten

François Dambois
Helena Winkelman (1974):
At Ease… bird on a slope, Non perpetuum mobile and Rondo in presence of fleas: a manic scratching miniature from String Quartet No. 2 'Papa Haydn's Parrot' (2016)
Johannes Brahms (1833—1897):
String Quintet No. 2 in G, Op. 111 (1890)